Finally as Covid situation settled, I left Pune for Jaipur for fresh air, new people and most importantly, to attend the wedding of my buddy.
Also check out my articles: Start a Blog, Travel Blog and My Portfolio.
Jaipur trip was planned to be in April, but Covid had us all at halt and change our upcomings. But then, I was informed about the new date for wedding and I made my plans for the wedding on 30th November. Direct train from Pune was running weekly and was of no use to me, so I had to book a train to Mumbai, another from Mumbai to Jaipur.
Time In Train:
For the first time, I was commencing on the longest train journey of my life, which was about 17+ hours from Mumbai Central to Jaipur, also adding 3 hours of Pune to Mumbai. I had booked a ticket with sleeper AC coach, for the first time, which was more than what I expected.
Daytime went by and we smoothly left the State of Maharashtra and entered Gujarat State. Most of Gujarat was covered while I slept a happy sleep, wouldn't complaint as I felt no major disturbance. Next Day, we had already crossed Gujarat and few stations of Madhya Pradesh and had entered the Rajasthan State, halting at Kota Junction. Waiting at Kota Junction had my memories of a Mini Series Kota Factory which I had watched a time ago, refreshed.
Sawai Madhopur & Jaipur:
Next train stop was Sawai Madhopur, where the engine was to be ejected and appended at the very end, for the train route is now to go reverse for a while and join on another route to Jaipur. On recommendation, I tried Bhaji at Sawai Madhopur Train Station, which was first taste of Rajasthan for me, quite spicy and a good snack. Moving on, in about an hour, we reached Jaipur Junction, a feeling kicked in of landing on new soil, with all but one known and new things coming my way.
I met with my buddy Chirag on Station and we moved out towards the place of stay. It was a Hotel cum Function Hall, with majestic hall, along with amazing styling and rooms for stay up and around.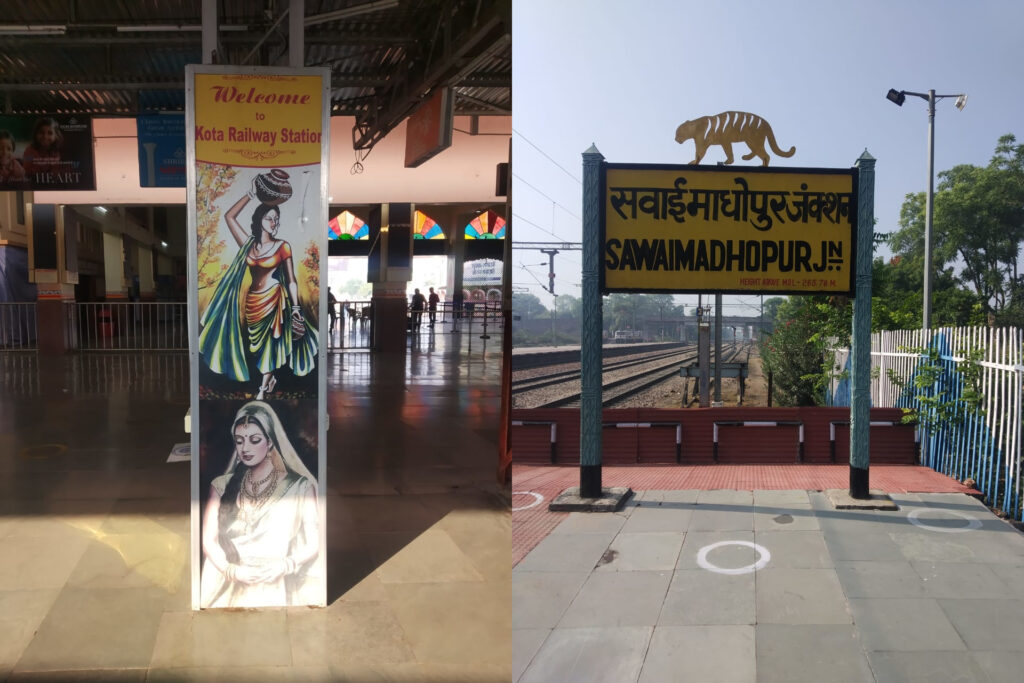 Food, Roads & People:
If you've read my travel blog, you might have noticed I focus on three things: Food, Roads, & People, about the places I visit.
As for Jaipur, I tried a number of new dishes, sweet and spicy. Different dishes everyday, various sweet dishes and for two special day, that were Engagement & wedding, we had The Thali. Two types of Rotis, sweet and steamed rice, Papad, few choices in Vegetables, Pickle and number of sweet dishes were all the share holders to a complete Thali.
Thali – Food on Plate:
Rajasthan is well known for food it offers, in a single large plate with various dishes. I was more than lucky to have enjoyed a wedding plate full of new tastes. My plate was full of Rotis – Naan, normal roti & a yellow coloured Roti, Jeera Rice, Pulav like Rice & Sweet Rice, along with Paneer Sabji and Rayta, then I had sweet dishes – Kaju Katli, Big Fat Gulab jamuns and Gajar Halwa with Mawa, this all was accompanied by snacks like Papad, Pani Puri, Boondi Rayta .
Due to lockdown restrictions I couldn't explore local street food but I did enjoyed Matar Kachori with Kadi, which was better than expected and another plate of Tikki, which had mixed taste, sweet sour and spicy at same time. Something Unique I tried was Lasun (Garlic) Chatni, .
As for the roads, Jaipur city has smooth roads, proper directions and are efficiently connected. I had my time in the Pink City and the market on foot and though I was new, I didn't find it difficult to navigate. Markets offers a wide range of items in wide range of quality, but you'll need an eye to find what you are looking for.
Most people I interacted where the relatives of my buddy and throughout the days they made me feel like home, always having me involved in their functions which was a lot new for me, talking and spending time with me, sharing their stories and asking me to stay another day so I can roam around before returning.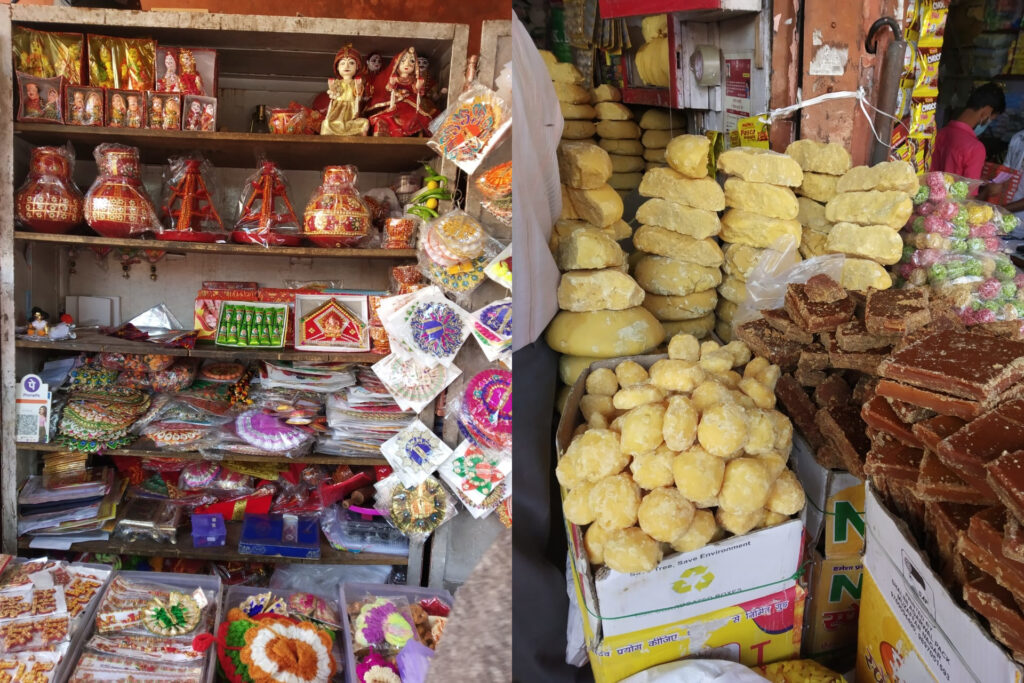 Just when pandemic was settling down, I was about 1,500 KMs away from home, new people, food and a lot to explore. I had a checklist of things to do and visit in Jaipur, but due to the Covid Situation, many restrictions were imposed and it was wise not to forcefully do anything.
Most of the time I was with the people I knew and new people I was getting to know, watching them carry out traditional functions and rituals. This was first Rajasthani Wedding I attended and though majorly it was similar to what we do in Maharashtrian wedding, I witnessed few new rituals and traditions.
The Beauty of Jaipur:
I wouldn't be a good storyteller If I haven't been the part of a story and so today, after I've visited Jaipur, I think I have words to describe the Pink City. The beauty of Jaipur, The Pink City of India lies in food that it offers, it lies in royal fort sitting at the top of a mountain, it lies in cold breeze and it lies in the language of Rajasthan, which is quite similar to my mother tongue Marathi, though each of these languages have respective variants.
Back to Pune:
I took a different route and boarded a Bus for my way Back. I had a chance to look out of window and see name plates over shops in Rajasthani Language and later on in Gujarati Language. This was again my longest Bus journey, of about 32 hours.
To Wrap It Up:
Trip was a great success, more than I had expected and am grateful for it finally happened. If chance stands again, I'd travel to Jaipur again and roam around more.
Concluding this article with my best wishes to the newly wed couple.
Congratulations Chirag & Shwetha.