Make sure to check out my Goa Dairies and Jaipur Trip. This is the THE ULTIMATE BALI TRAVEL GUIDE: EXPLORING PEOPLE, PLACES & FLAVORS.
Quick Decision, Lasting Memories
Deciding to go to Bali happened in an instant – the promise of its rich culture, beautiful landscapes, and tasty food was too tempting. While on a Google Meet call with my friends, we discussed how possible it will be for four of us to plan a trip and make it happen. Took us a few minutes and after multiple possibilities and we dropped our pin on BALI.
From the warm smiles of our hosts to the tantalizing flavors of Balinese cuisine, every moment left an indelible mark. The picturesque landscapes, especially those leading to Besakih Temple and the awe-inspiring Kelingking and Diamond beaches in Nusa Penida, were beyond words. Immersing ourselves in Balinese culture, from ancient cleansing rituals at Pura Tirtha Temple to savoring local life at Mama's Warung and Warung Baleganjur, was an enriching experience. Amidst the rollercoaster-like roads and vibrant city life, the adventures with friends, especially the unforgettable bike rides and mesmerizing snorkeling, added the perfect dash of thrill.
Bali's Warm Welcome
We were warmly greeted with genuine smiles at each hostel and Airbnb, encountering no issues throughout our stay. The locals and fellow tourists surpassed our expectations, always exuding friendliness and providing helpful assistance. The collective warmth of the people, both locals and visitors, created an atmosphere far beyond our anticipations, making our experience exceptionally pleasant.
Culinary Chronicles
Balinese dishes offers a delightful experience that can make your taste buds come alive with joy. Do not miss the "Nasi Goreng" or Fried Rice, with an egg on top, or you can opt for fried noddles. I wanted to try Bebek Betutu (Balinese Roast Duck) but I could only find a fried one, which I did tried. But I guess I expected roasted duck taste from a fried one and was quite disappointed.
Another dish I tried was Tuna with rice and the way it was cooked had me amazed. Tried it at Lonto Warung. It was a perfect balance between steamed vegetables and well cooked Tuna, and the curry added a light flavor while not losing the original taste of tuna.
While it might pose a slight challenge for strict vegetarians, for everyone else, it's a culinary paradise with an array of delicious dishes.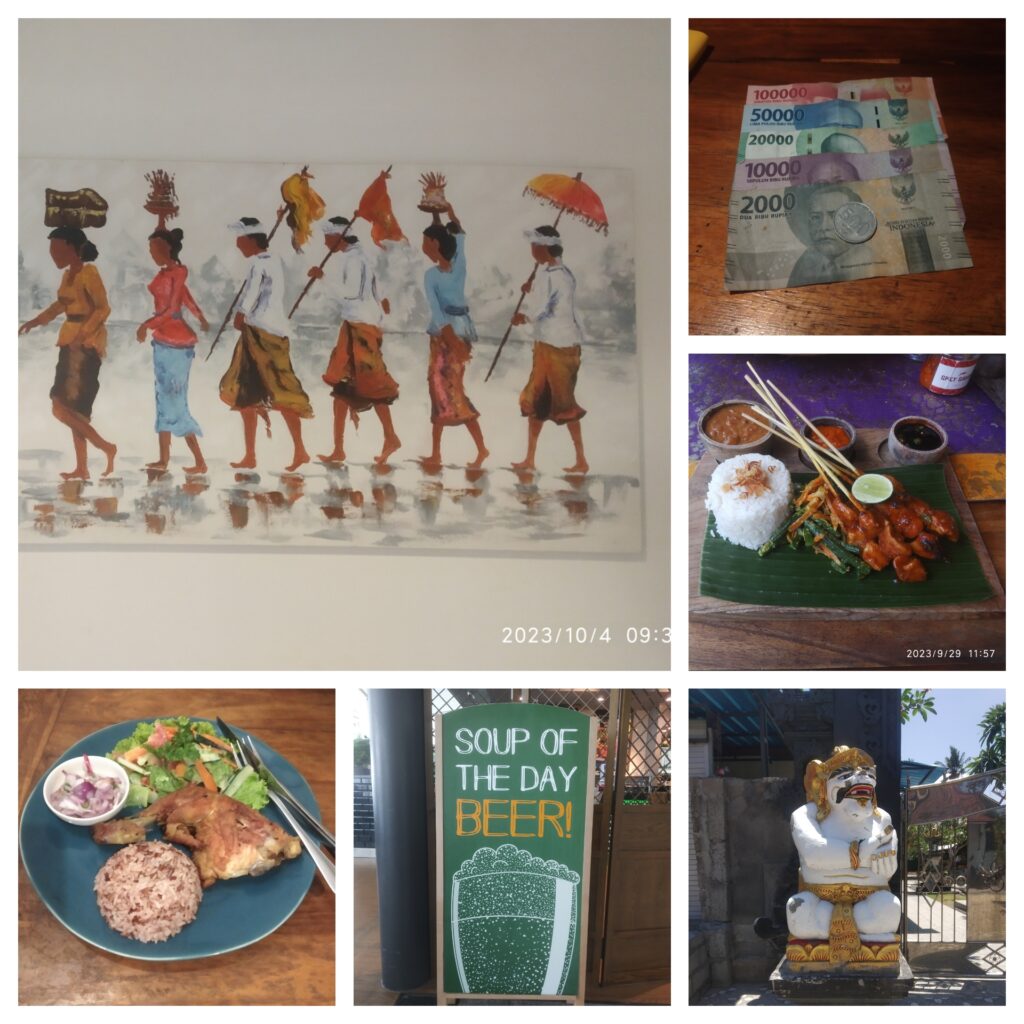 Scenic Wonders
Ok! Wow! Where do I begin?????
We decided to visit Besakih Temple and the scenic views we experienced on our way to the temple were more than enough to make us stop on every corner. It is the largest temple and sits in front of the Mount Agung and with clear weather, you can get an amazing click with temple entrance and the Mount Agung behind it, all in one perfect frame.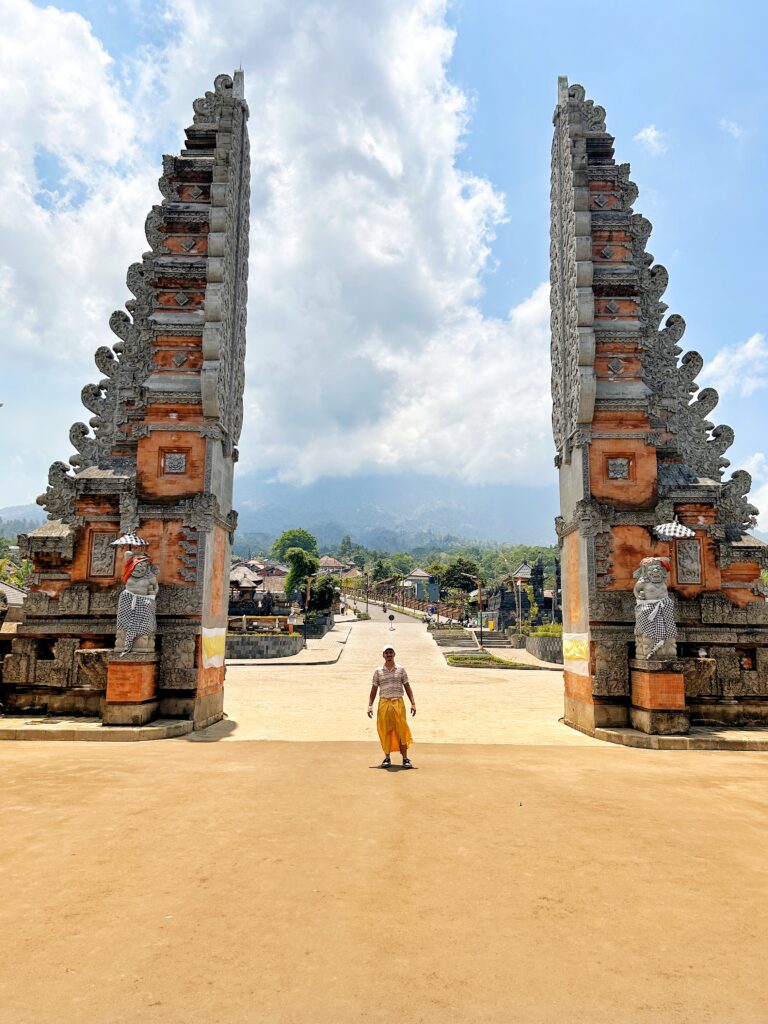 Another noticeable thing I wish to mention is the roads. Full of curves and rollercoaster like ups and downs, the roads had us enjoy the journey more than we had expected.
Moving to Nusa Penida, the views one can capture at kelingking and Diamond beach are way out of my capacity to describe. You will have to go through a pretty heavy trek to reach the beach from top, but it is definitely worth it.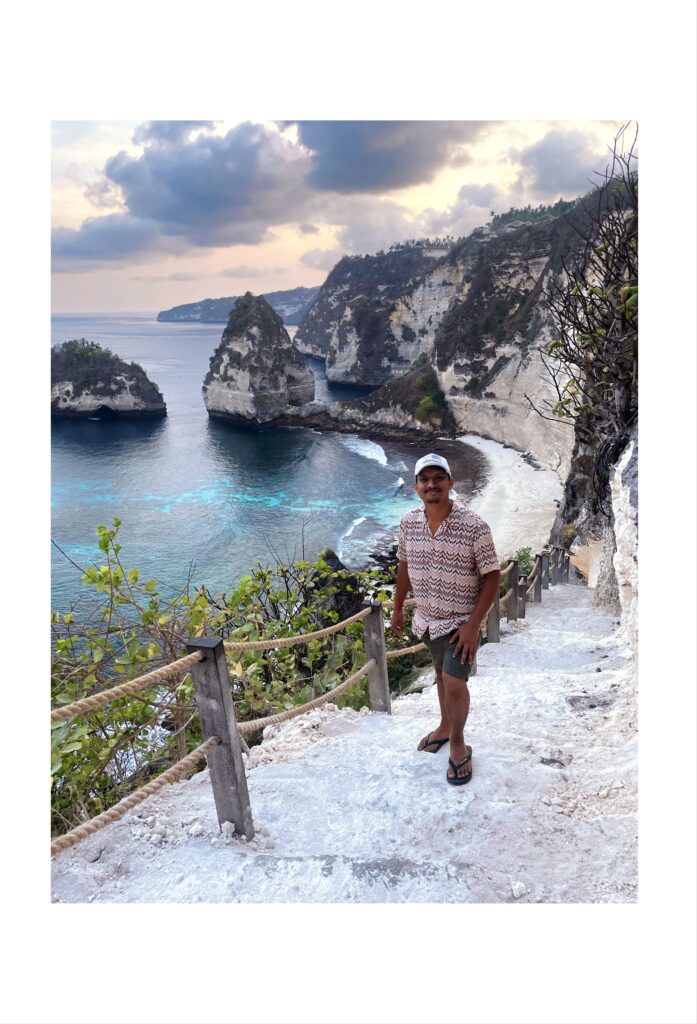 Bali's Cultural Immersion
To kick things off, the hospitality extended by every hostel and Airbnb host we encountered was truly exceptional. Everywhere we went, we were welcomed by a smile and eagerness to help.
Being Indian and a Hindu, it didn't take a long for me and my friends to immerse in the culture and traditions. Methods seemed to be varying but the final aim was same, to work hard and pray for a fulfilling life. Learning about the Besakih Temple made us realised how widely spread Hinduism is.
At Pura Tirtha Temple, we participated in the ancient cleansing rituals and there was nothing more that would make us feel such involved in the culture.
Over the remaining 3-4 days, we stayed and enjoyed the city life as locals. I strongly recommend, Mama's Warung and Warung Baleganjur for amazing food, appreciable hosts and amazing time.
Adventures with Friends
My best take away is not just one but every bike ride we did between two points. Where you wish to go, you will probably encounter curvy roads and mesmerising views to your side.
And the experience I had with Snorkelling is way more than I paid for. Crystal clean water, Colourful fishes, and the corals you view while floating easily is a worth try. DO NOT MISS IT!
Reflections and Takeaways
This Bali journey intertwined with gracious hospitality, deep cultural immersion, delectable culinary experiences, and awe-inspiring landscapes — a journey imprinted on the heart for eternity.
Finishing this with nothing but a wish. A wish to explore the rest of Indonesia and Bali, Someday.