And here we are, again! Another year to an end.
Of course, don't forget to check out my Goa Series and Favorite TV Series.
It has been quite long since I last visited Goa and have been busy with this and that, but I did have a pretty bumpy ride to my hometown and it was an experience I wish to keep that one time. But, now let's talk about what I did recently.
So, a friend wanted to have a short trip during the last week of the year and he approached me with a plan, which somehow I diverted to a plan I wanted to make possible, and in the end, he admitted how good my plan was.
En Route:
I proposed we visit Shrivardhan Beach on the Konkan belt and our route for the bike ride was: Pimpri – Hinjewadi – Mulshi – Tahmini Ghat – Mangaon – Shrivardhan – Harihareshwar and back home. But as expected there were variations and more options made available plus my friend's interest to spend another day added a visit to Raigad Fort.
On top of this, I extended my plan and included a two-day stay at Zostel Kolad, and then I returned home.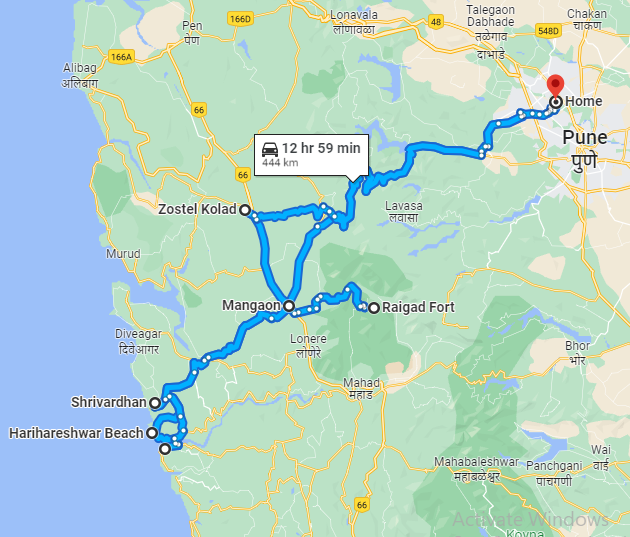 Shrivardhan:
As you might be aware of, I lived in Goa for 8 months and when most of us think of beaches and parties, Goa clicks in. Of course, the nightlife in Goa is not to be compared to here but beaches, local food, people, and most importantly, roads, everything was on a level above.
Being on a bike, roads were crucial for me and every route I took was really good and unexpectedly curvy, which turned out to be fun actually.
Beaches on Shrivardhan and then on Harihareshwar both had a cool vibe, kind of relaxing, and actually made you feel away from the city and daily schedules. Visiting the Harihareshwar temple was really nice along with the walk around the temple that took us through a nice view of mountains with waves crashing in a rock formation, which was really something to think about if you give it a thought.
On the third day, we took a ferry ride to the other side and visited a small fort. The structure of that fort kinda made me think, how did they do it, actually. And then, that was the end of day 2 and we returned to our stay.
Zostel Kolad:
Day 3: We left Shirvardhan and on the way back halted at Mangaon for a nice lunch and it was unexpectedly awesome. We then parted ways where my friend went back to Pune and I went on to Kolad.
It was my first time at Zostel but a worthy one. As I reached the location, I couldn't first understand why I can't see the premises of Zostel and all I saw was a river. Turns out Zostel is on the other side of the river and we have to park our vehicles on this side where they have their parking for zostel customers, then hop into a boat and cross the river. Do check out Zostel Kolad.
Stayed two nights at Zostel, where half of day 1 went into resting and the night was pretty alive. Zostel has a delightful internal ambiance and that is exactly where I understood that Zostel doesn't charge you for accommodation but for hospitality and environment it offers with an amazing opportunity for you to meet like-minded people and get to know stories you might have never heard of.
Day 2 at zostel was chill but the night got interesting as now I knew a new set of faces and there was a lot to talk about and share. Keeping this short, I had an absolutely amazing time at Zostel and the whole road trip with the exploration of new places was worth it.
Finally
Finally, the bike ride through the curvy mountain roads of the Western Ghats hill range was an unforgettable experience. The winding roads, challenging inclines, and hairpin turns made for a thrilling ride. For any adventure seeker out there, I highly recommend adding this bike ride to your bucket list. It's a great way to experience the natural beauty of the Sahayadri range (Starting with the Konkan Belt), and the memories of it will stay with you forever.
Happy Traveling!
Good Times!